Amazona Cocoa
Artisan crafted in small batches
Flavors inspired by the Tropics
Explore our variety of products Cocoa Shop
Farmer Supported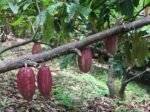 Fine-Flavor Chocolate Products.
Committed to fair trade farming practices.
Customer committed

Dedicated to your satisfaction.
Enjoy our quality and island-inspired flavors.
Come and visit our Cocoa Shop

Indulge in Pure Goodness with Amazona Cocoa
Welcome to the world of Amazona Cocoa, where we bring you the vibrant and authentic flavors of the Caribbean. Our family-owned business provides you with the finest single-origin, fine-flavor, organic cocoa, and chocolate products.
At Amazona Cocoa, we believe in supporting sustainable farming practices, which is why we pay a premium for sustainable cocoa. By doing so, we create higher income and greater financial security for farmers and their families. Our commitment to honesty, integrity, and reliability has allowed us to establish long-term relationships with farmers and cooperatives in the Caribbean and South America.
From Our Farm to Your Table
As a family business, we take pride in our small family farm located in the heart of the Caribbean. It is here that we cultivate cocoa beans that are prized all over the world for their exceptional flavors. From the moment the beans are planted to the final stages of chocolate production, every step is carefully monitored and executed with love and passion.
But our reach extends beyond our own farm. We also source directly from other farmers and cooperatives in the Caribbean region and South America. This allows us to bring you a wide variety of flavors that are inspired by the spirit of the islands and influenced by native fruits and spices. Our chocolates are crafted in small batches to ensure the highest quality and to preserve the unique flavors that make each bite an unforgettable experience.
Embark on a Flavorful Journey
When you choose Amazona Cocoa, you're not just buying a chocolate bar. You're embarking on a flavorful journey that will transport you to the beautiful islands of the Caribbean and beyond. Our products are made with premium quality ingredients, and we always strive to use local options whenever possible.
Whether you prefer the rich and bold flavors of our dark chocolate, the fruity and tangy notes of our milk chocolate, or the delicate sweetness of our white chocolate, there's something for everyone to enjoy. And with our wide variety of flavors inspired by cultures across the islands, you can discover new tastes and experiences with every bite.
So go ahead, treat yourself to a taste of the Caribbean. Join us in celebrating the vibrant flavors and sustainable farming practices that make Amazona Cocoa truly special. We invite you to explore our range of products and experience the pure goodness that awaits you.